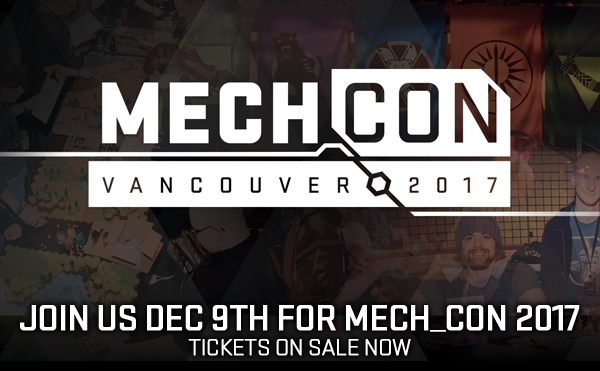 Compiled by John De, PAO Editor.
---
Buy your tickets and book your hotel now because Mech_Con is starting in a week! This year, Mech_Con attendees will have the opportunity to be among the first to play an early, never-before-seen build of MechWarrior 5: Mercenaries! Check out all the details in the link below:
Have some fun facts from the Mech_Con Survey!
243 of the survey participants attended Mech_con 2016
763 people plan to attend Mech_Con 2017!
Everyone's favorite element of Mech_Con 2016?
#1 - MechWarrior Online World Championships Finals!
#2 - The Presentations! ( and the MW5 Reveal)
#3 - Meeting fellow MechWarrior and BattleTech fans as well as the Devs!
Where are People Traveling from?
#1 North America
#2 Europe
#3 Australia
#4 Local (Vancouver, BC)
People are coming from all over the globe including:
Asia, South America, and Africa!
Mech_Con is truly a Global Event!
T
hose who can't attend can watch and engage on Twitch!
More Engagement, More Fun, More Fans, More Hype, More Everything!
ONE TEAM ONE FIGHT
MechWarrior Online is a fully supported game regiment and offers all BWC members a great opportunity for quality gaming, team building and event participation. Featuring tactical variety, fun and engaging gameplay mixed with competitive elements, MWO espouses the "One Team, One Fight" ethos that BWC centers itself upon perfectly.