Black Widow Company was officially founded in February of 2003 by four active-duty military guys stationed at Fort Meade, Maryland. Traditionally, the BWC birthday had been celebrated as 01 April 2003, though the core members had been playing various shooters whilst wearing a [BWC] tag long before this.
The five founding members are: BlackWidow (first CO), Kazba (first XO and later the second CO), Firefly, ZaoGao, and MustangSally aka MissKazba. BWC was formed with the premise of playing Planetside when it was beyond the Alpha stage. In the meanwhile, the team played Return to Castle Wolfenstein and Battlefield:1942 in order to start building a teamwork base and get a feel for each other's playstyle.
BWC has since adopted the [BWC] tag as its official battle-tag to commemorate its heritage.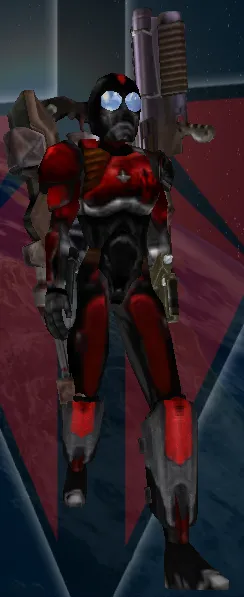 Elite Dangerous is stood up as a game company.
BWC Star Citizen members participating in the creation of a widely-viewed machinima web-series set in the Star Citizen universe.
New Front page is launched showing highlights from all across BWC.
Covid-19 Pandemic begins, BWC members support each other through the ensuing lockdowns.
Destiny 2 and ESO games companies see significant growth.
BWC begins the process of rebuilding the PS2 company.
PS2 game company announces to the Emerald Server it's back by summoning a Bastion Fleet Carrier and asserting the supremacy of the Terran Republic on Auraxis.
Vanguard is retasked to handle major BWC events, the first of which being the 2019 BWC Birthday Bash in April.
The tri-ranking system of Army, Marine, and Navy is voted to be removed, and BWC returns to a single ranking system for all its staff and members. The community voted on which ranking structure will define BWC going forward, and the US Army won the vote.
The Division 2 jumps to Regimental status with a strong BWC presence and a very successful release of the game.
The Vanguard system for standing up and down games continues, standing up Destiny 2 to regimental status within several months of the regiment being reintroduced to BWC.
BWC Summer Bash returns this year.
Website is overhauled and brought up to VB 5 by our Operations team.
OPSERV is again overhauled to run seamlessly with the upgraded site.
Planetside 2 returns to full regimental status.
World of Warcraft Regiment stood up as a full game regiment.
SWTOR Regiment stood down as a regiment.
BWC Beta Program is developed to help foster involvement with industry partners.
BWC Twitch sponsorship with Gamesplanet.com is launched.
OPSERV is again upgraded with a focus on including more in depth reporting functionality to aid game regiments with administration.
BWC Training Library established on OPSERV to remove all training administration from google docs and ensure continuity.
Promotion points system removed in favor of merit-based promotion system.
Wake the Jake philanthropic event is completed to aid a member in need.
Mechwarrior Online Stood down as a Game Regiment.
Legionnaires host the first annual BWC Summer Bash Legendary Operation and launch BWC's renewed focus on Social Media presence.
Second annual One Team One Fight Legendary Operation is concluded.
Finance department is re-organized into ORDO to support BWC's outreach initiatives.
SWTOR stood up as a full game regiment after completing the Vanguard Process.
PS2 Teams up with 4ACES to participate in St. Judes Play Live charity event.
BWC Concludes its first annual One Team One Fight Legendary Operation celebrating the organization's focus on community achievement.
The PAO Team develops BWC's first attempt at a regular Podcast.
MWO runs the "Golilla in the mist" Epic Operation as Golilla Retires from C&S.
BWC Attend Paintball event at Splat Brothers and has a huge turnout of over 30 members. BWC continues its PAX attendance with another panel at Pax East.
BWC 2.0 "Excellence in Gaming" implemented with new TS, Age, Discipline and SOP policies.
Child's Play and Extra 4 Life philanthropy events launch successfully.
BWC Sponsors an Honor Flight for 25 WWII and Korean War Veterans. All costs covered by BWC and our industry partners as part of our Philanthropic operation.
ARMA3 is stood up as a game regiment.
Planetside 2 featured a live event in Los Angeles. NC and VS outfits were asked to work together and each faction was to field a ten-person team from several big-name outfits. Black Widow Company was asked to field a ten-man team for the Terran Republic.
MWO Regiment creates an in-house BWC wide event "Dogs of War". All areas of BWC are invited to attend, and over 120 members take part across several weeks.
MWO hosts the Trial of Bloodright across 4 different weight classes (Light, (Steele), Medium, (Ward), Heavy (Pryde) and Assault (Winters) with the winner holding the "house name" for the next 12 months.
Star Citizen stood up as Game Regiment.
SOE once again called on Black Widow Company to film portions of Terran Republic action for its industry-wide announcement that Planetside 2 was coming to the Playstation 4.
BWC active member count reaches over one thousand active players in three game divisions.
BWC Target Lock Cancer event is successful and launches BWC philanthropic brand – Play To Give Back. BWC raises over $16k for St. Judes Childrens Cancer Research.
BWC scenario paintball team secures its sixth Most Valuable Team award in five years of attending the West Point Combat Classic.
BWC adopts "One Team, One Fight" as it's operational motto.
CIG invites a BWC unit to their office for the Jump to LA event. BWC is given a tour of the CIG offices, and allowed access to upcoming models and material.
CIG joins BWC in it's veterans day fundraiser, matching our contributions.
BWC sends a delegation to PAX and launches its veterans in gaming panel, joined by Chris Roberts, Trammel Isaac, and BWC members.
BWC actively participates twice a year in "Community Gatherings" where members meet up and play a weekend 26-hr Paintball scenario. Many of the members are friends in real life and thus unofficial ad hoc gatherings occur all the time. These gatherings can be found in the board marked "Team BWC Paintball". BWC has earned the Most Valuable Team for two years in a row at Splat Brothers park in Hopewell Virginia and has won the MVT award at West Point Combat Classic. Routinely members will meet for big scenario games, such as D-Day at Hogback Mountain in Hopewell Virginia or West Point Combat Classic in New York.
At the end of March, specifically 31 March and 01 April, BWC brought home its fourth Most Valuable Team award from the 25th anniversary Combat Classic game. BWC fielded (at the time) its largest team yet, and a significant portion of the team were first-time paintballers, lending credence to BWC's style of play.
Beginning in the summer of 2012, Black Widow Company began ramping up for MechWarrior Online and Planetside 2 beta. MWO grows from a company-strength unit all the way into a full-blown 'Mech regiment.
MWO peaks with three combat battalions in the North American servers in full operation 24hrs a day. A fourth combat battalion was in operation in the EU/UK region. A fifth battalion, for casual players and new recruits, was also in operation. The MWO regiment experienced growing pains but persevered, and has successfully competed in several MWO tournaments.
On the PS2 side of the house, task forces were beginning to coalesce and take shape, and BWC began re-devising its combat doctrine. Shortly before the end of PS2 open beta, PS2 regimental leadership forge a working relationship with Sony Online Entertainment that would include producing video content for the game.
This working relationship not only provided a massive publicity blitz that saw millions of hits across over twenty websites, and spawned a series of professionally-done videos from the PS2 developers, but it also opened the door to working relationships with Piranha Games (MechWarrior Online), Cloud Imperium Gaming (Star Citizen), and Trion Worlds (Defiance).
BWC develops "S-Shops" a full-blown support staff structure. Initial shops were S-1, S-2, S-3, S-6 and PAO. BWC has since both consolidated and expanded the S-Shop system as our needs have evolved.
BWC fields another scenario paintball team for West Point Combat Classic, securing our 5th Most Valuable Team award.
Website, OpServ and Fruit Salad are overhauled and updated.
BWC begins dominance at the West Point Combat Classic paintball game.
Toward the beginning of 2010, BWC is deeply excited by three critical revelations: Planetside was going to have a "sequel", Planetside 2; the world of MechWarrior would see a new MechWarrior online game; and Bioware was developing a Star Wars MMO.
BWC ends its support for PotBS shortly after live retail launch.
BWC entered Warhammer: Age of Reckoning (WAR or Warhammer Online) in August.
BWC began actively fielding large paintball teams at least twice a year, most prominently at West Point Military Academy's bi-annual Combat Classic.
BWC applies the same tactics and mentality to paintball scenarios that it does in online gaming. Its penchant for small-unit tactics, unconventional warfare and fluid mobile warfare has driven the Company to acquire three highly-sought Most Valuable Team awards and numerous recognition at multiple fields.
BWC officially closed its doors to Planetside in early 2007.
BWC moved to EVE Online and BF2142, and began looking towards Huxley and Lost Colony as its next "main game".
BWC entered Pirates of the Burning Sea at the beginning of Stress Test 2 and began recruiting.
In October of 2007 BWC held its first annual "real-life" get-together at Splat Brothers Paintball Park in Hopewell Virginia.
The Planetside branch was brought to full company status.
BWC filmed an "outfit movie" in Planetside, which won second place in a developer-sponsored contest.
BWC attended SOE's 2006 "Fan Faire", where eight of its members were among the eleven attendees who came just for Planetside.
BWC created a prototype scrimmage system using the Test Server (which it used in the ULTRA Alliance), which led to the implementation of "Outfit Wars" - a combat system in Planetside where outfits competed against each other in ladder matches.
Planetside Task Forces are suspended with the brief rise in intense competition between task forces. Many members felt that they only knew people in their task force as opposed to across the entire outfit. This led to a disjointed effort at playing, and coordination and teamwork suffered greatly.
BWC adopts the policy of "Every Soldier a Rifleman First", and required Medium Assault to be in the certification list of every player. Planetside Task Forces eventually returned, though not with as much fanfare and with stricter guidelines. The playerbase began to rebuild the outfit, and things began to look up.
BWC brought in a second game, Battlefield 2, and the outfit was broken into Platoons and designated a Company. Each platoon served as home to a game.
BWC took part in several tournaments and ladder tourneys, placing third in the TGL series and placing highly (2nd and 3d place) in multiple other BF2 tourneys. BWC pioneered one of the tactics that began to dominate the TGL/BF2 tourneys.
BWC rebuilds its ranks to 160+ people.
The Operations Server 1.0 was programmed.
The Legion of Honor was created.
The first Fruit Salad display was created.
Task Forces within BWC's Planetside player base were created.
The original website went live on April 1st 2003, located at blackwidowcompany dot com.
Planetside launched with its retail release in May of 2003. By this time, BWC was well-known as a force to be reckoned with, and for its military-like organization and teamwork.
BWC's ranks grew to roughly 200 people, most of them die-hard Planetside players. At this point, BWC opened its doors to Star Wars: Galaxies, and a separate platoon was formed for this new game.
The SOP was created and the "Three Strikes" rule is put into place.